Welcome to the website of


St. Peter Roman Catholic Church


St. Dominic, St. Felix, and St. Francis
of the

Diocese of Rochester NY


---


CMA Results as of Thursday December 5

319 Donors have pledged $43,427.00

96.59% of our goal of $44,962.00

Average Pledge $136.13

70 New Donors have given $7,577.00 = 16.85% of our goal!

We are in seventh place in the Diocese.

Thanks to all our CMA Donors!


---
Second Sunday of Advent

December 8, 2013



Solemnity of the Immaculate Conception of the Blessed Virgin Mary

Observer Monday, December 9

Mass at St. Dominic at 12:00
---
Pray the Rosary daily for the
Conversion of Sinners,
the suffering
Souls in Purgatory, an end to Abortion
and
Freedom of Religion
---
Second Sunday of Advent
Lectionary: 4
On that day, a shoot shall sprout from the stump of Jesse,
and from his roots a bud shall blossom.
The spirit of the LORD shall rest upon him:
a spirit of wisdom and of understanding,
a spirit of counsel and of strength,
a spirit of knowledge and of fear of the LORD,
and his delight shall be the fear of the LORD.
Not by appearance shall he judge,
nor by hearsay shall he decide,
but he shall judge the poor with justice,
and decide aright for the land's afflicted.
He shall strike the ruthless with the rod of his mouth,
and with the breath of his lips he shall slay the wicked.
Justice shall be the band around his waist,
and faithfulness a belt upon his hips.
Then the wolf shall be a guest of the lamb,
and the leopard shall lie down with the kid;
the calf and the young lion shall browse together,
with a little child to guide them.
The cow and the bear shall be neighbors,
together their young shall rest;
the lion shall eat hay like the ox.
The baby shall play by the cobra's den,
and the child lay his hand on the adder's lair.
There shall be no harm or ruin on all my holy mountain;
for the earth shall be filled with knowledge of the LORD,
as water covers the sea.
On that day, the root of Jesse,
set up as a signal for the nations,
the Gentiles shall seek out,
for his dwelling shall be glorious.


R. (cf. 7) Justice shall flourish in his time, and fullness of peace for ever.

O God, with your judgment endow the king,
and with your justice, the king's son;
he shall govern your people with justice
and your afflicted ones with judgment.

R. Justice shall flourish in his time, and fullness of peace for ever.

Justice shall flower in his days,
and profound peace, till the moon be no more.
May he rule from sea to sea,
and from the River to the ends of the earth.

R. Justice shall flourish in his time, and fullness of peace for ever.

For he shall rescue the poor when he cries out,
and the afflicted when he has no one to help him.
He shall have pity for the lowly and the poor;
the lives of the poor he shall save.

R. Justice shall flourish in his time, and fullness of peace for ever.

May his name be blessed forever;
as long as the sun his name shall remain.
In him shall all the tribes of the earth be blessed;
all the nations shall proclaim his happiness.

R. Justice shall flourish in his time, and fullness of peace for ever.


Brothers and sisters:
Whatever was written previously was written for our instruction,
that by endurance and by the encouragement of the Scriptures
we might have hope.
May the God of endurance and encouragement
grant you to think in harmony with one another,
in keeping with Christ Jesus,
that with one accord you may with one voice
glorify the God and Father of our Lord Jesus Christ.

Welcome one another, then, as Christ welcomed you,
for the glory of God.
For I say that Christ became a minister of the circumcised
to show God's truthfulness,
to confirm the promises to the patriarchs,
but so that the Gentiles might glorify God for his mercy.
As it is written:
Therefore, I will praise you among the Gentiles
and sing praises to your name.


John the Baptist appeared, preaching in the desert of Judea
and saying, "Repent, for the kingdom of heaven is at hand!"
It was of him that the prophet Isaiah had spoken when he said:
A voice of one crying out in the desert,
Prepare the way of the Lord,
make straight his paths.
John wore clothing made of camel's hair
and had a leather belt around his waist.
His food was locusts and wild honey.
At that time Jerusalem, all Judea,
and the whole region around the Jordan
were going out to him
and were being baptized by him in the Jordan River
as they acknowledged their sins.

When he saw many of the Pharisees and Sadducees
coming to his baptism, he said to them, "You brood of vipers!
Who warned you to flee from the coming wrath?
Produce good fruit as evidence of your repentance.
And do not presume to say to yourselves,
'We have Abraham as our father.'
For I tell you,
God can raise up children to Abraham from these stones.
Even now the ax lies at the root of the trees.
Therefore every tree that does not bear good fruit
will be cut down and thrown into the fire.
I am baptizing you with water, for repentance,
but the one who is coming after me is mightier than I.
I am not worthy to carry his sandals.
He will baptize you with the Holy Spirit and fire.
His winnowing fan is in his hand.
He will clear his threshing floor
and gather his wheat into his barn,
but the chaff he will burn with unquenchable fire."
If You're Looking for Me, You'll Find Me Standing With the Pope


I doubt that they're interested in what I think, but I want to send a message to the charlatans out there in the blogosphere. If you're looking for me, you'll find me standing with the Pope.
If you are a Catholic, and you have been joining in the orgy of Pope bashing that is coming from the right wing of American politics, then you need to get in line right behind Nancy Pelosi, Joe Biden and all those other Catholics you love to hate. Because you are one of them. Get yourself a cafeteria card and get that baby punched.
If you are a Catholic, and you are not outraged by the river of slime being dumped on our Pope by vicious right-wing pundits, then you need some spiritual smelling salts.
Wake up Catholics. Stand with your Pope.
American politicians and their minions in the media love to bash the pope.
Remember the attacks from the left wing against Pope Benedict XVI? They couldn't/wouldn't stop cracking their verbal knuckles over what this 80-year-old man had been forced to do against his will when he was a boy. The same crowd that calls foul if you hold any of their heroes accountable for what they said or did five minutes ago, wanted to proclaim that the entire sweep of this Godly man's life was worthless because of something that had happened when he was a child.
Remember the bullets raining down on Pope John II? They were fired from a gun held by a paid assassin.
Politicians envy the moral voice of the Pope because, alone of all the great religious voices of our day, his is the one they cannot control. Left or right, it doesn't matter; they all hate and fear the Pope.
That is because he is not one of their toady religious leaders that they have co-opted for their own purposes of gaining and keeping power. The Pope is not answerable to politicians, including American politicians, American politics or America's self-deified tin gods of the media.
Politics in this country has endeavored for the past four decades to slice and dice, buy and sell Christianity. It has, with the eager help of its pet clergy, narrowed the revolutionary message of the Gospels down into neat, easily-controllable little sound bites that it can use in campaign ads.
Christianity in America has become a politicized, bastardized mumbo-jumbo of apologetics for both right and left wing politics. Religious leaders have cut the Gospels into political shapes that do not in any way resemble the Gospel that has the words that lead to eternal life. Instead of leading their flocks on the Narrow Way, they are misleading them along the political way.
I have seen these religious leaders bow down before political power. I have witnessed them change their positions when their political masters yank their chains, even on issues of grave moral concern such as abortion. They have bartered Christ in the political marketplace. The fact that at least some of them were paid considerably more than 30 pieces of silver does not change the nature of the transaction.
Political power brokers in the media have not hesitated to use religious language to condemn the political opponents of the power column that is paying their salaries. Toady preachers have not hesitated to back them up. This has become such an unadulterated heresy that large segments of the Christian believers of this nation actually think that following one or the other political party and its "teachings" is tantamount to following Christ.
How did people come to this heretical viewpoint?
They came to it because their religious leaders sold out the Gospels to political power brokers and used their prophetic and moral voice to go whoring for either the Rs or the Ds. They have sold not only the Christian message but themselves in the bargain. They have become the things of the politicians and when they occasionally try to exert themselves as if they were actual men and women of God, they are quickly told to sit down and do as they are instructed, and they do it.
I have witnessed these things and argued in vain with some of the religious leaders, urging them to grow spines and stand for what they say they believe. I have heard their excuses. I have also seen how whipped and meek they are in their dealings with these politicians.
I've seen them back off and back down about the one issue they claimed was number one with them: The issue of abortion. I've even had pro-life leaders lie to me in a failed attempt to try to keep me from taking a stand against legislative initiatives that were enabling abortion rather than shutting it down.
These political leaders are the religious leaders' masters, and they are not at all shy about yanking back on the reins if the religious leaders forget this.
I believe that this prevailing relationship of religious corruption and political abuse has created an expectation on the part of right-wing leaders in all venues, including the media, that religious leaders are under their thumb. This public adulation of a Christ-less christianity of the political is coupled with a private contempt for its practitioners that has become so rife in American politics that they aren't hiding it anymore.
The Pope is the great exception to this. He is not owned or dictated to by either the minions of the right or minions of the left.
The Catholic Church does not trim its teachings to suit the fancy of American politicians. For all their arrogance and power, these political forces and their operatives cannot control or dictate to the Pope.
There is nothing more frightening and enraging to political power brokers than a genuine man or woman of God. They are no different in that than the political power of the first century. Their instincts, which are always honed in the service of getting and keeping power, go ding-ding-ding like a fire alarm when they encounter a religious leader they can't buy-bully-destroy.
That is why they are attacking our Holy Father today. They can't control him. They can't make him teach a two-sin Christianity that deifies them and their politics. They can't get him, as they have so many other religious leaders, to comb through the scriptures to find verses that will exempt their actions, particularly their actions concerning economics, from moral scrutiny.
That is why the right-wing blogosphere has been littered the past few days with attacks from Breitbart, Limbaugh, Fox News, et al; all claiming that Pope Francis is a Marxist, or something worse, an Obamaist. They use ridiculous headlines such as Pope Francis Attacks Capitalism, Calls for State Control, (Breitbart) Pope Francis' Latest Document is Pure Marxism (Limbaugh) Pope Francis is Giving Obama an Orgasm (Limbaugh again), Pope Francis is the Catholic Church's Obama. God Help Us (Fox News) and CNN's entry from the left, The Pope as Marxist: Is Limbaugh Right?
These people have become so arrogant that they think they can talk to the Pope the way they talk to their toady political religious leaders that they've bought and own. Since they can't even get an audience with the Pope, they are going directly to their cult-like following among their readers and listeners and are doing their best to get them riled up into a froth of Pope-hating.
These attacks on the pope serve a two-pronged political purpose. First, they are an attempt to weaken the Holy Father's moral leadership in America. Second, they are a method of damage control among the pundits' Protestant followers.
Evangelii Gaudium does not say anything new in terms of Catholic teaching and economics. But its total lack of obeisance to the political powers in one wing of American politics both affronts and angers them. The Pope is a problem.
The last thing the political powers that be want is for religious leaders to start behaving as if Jesus Christ was actually the arbiter of their teachings. The scary thing about Pope Francis' independence and total unconcern about them and their power is not only that tens of millions of American Catholics might follow him, but worse, that their toady religious leaders might consider preaching the Gospels of Christ instead of political expedience along with him.
Courage breeds courage. There is just the glimmer of a possibility that these had men of the fallen collar class might decide to become real men of God and start standing for Christ. What would happen if, instead of bending over and apologizing to their political masters for disagreeing with them, the religious leaders these political parties depend on for their moral cover actually stood for Christ?
Thus we are being treated to the sorry spectacle of tawdry attacks on the Vicar of Christ by people who have made their excellent livings promoting fealty to political christianity.
The pope attackers are trying to use the same thing that President Obama has used in pushing the HHS Mandate. They are counting — probably correctly — on the latent anti-Catholicism in our society, in particular in certain conservative Protestant circles.
Not only do these outlandish slanders against the Pope feed them red Catholic blood to whet their anti-Catholicism, they demonstrate what can happen to those who don't do what they are told. The Pope might be able to shrug off their insults, but lesser clergy would have their reputations and careers wrecked by an onslaught like this.
In short, since they can't bully and coerce the Pope, they will try as much as possible to isolate him and render his moral teachings insignificant among those religious leaders they can bully and coerce.
That is what is causing the outrageous attacks on the Pope. The claims that these pundits are making about Evangelii Gaudium are baseless lies. I've read the document and I can tell you that it is consistent with Catholic teaching on economics going back at least to the 19th century. I know this because I've also read the encyclicals of previous popes on this subject.
The Pope is a Marxist??? If you believe that, I've got a bridge in Brooklyn I want to sell you.

In case I haven't made myself understood, I'll explain this caterwauling and attacking of the Holy Father in outline form:
It's about power.

It's about politics.

It has nothing to do with morality, truth, the facts, Marxism or even Obama.

It is about these punsters using your fidelity to them to destroy your fidelity to your Church so that when the Pope disagrees with them, it won't matter. It is about them appealing to anti-Catholicism within the body of Christ to divide us and scatter us so that we cannot stand for Our Lord with one united voice.

These things they're saying about Pope Francis are not true. They either did not read Evangelii Gaudium, or they are deliberately distorting what it says. When they say that the Holy Father "attacked capitalism, called for government control and is a Marxist," I am hard-pressed to call it anything other than a slanderous lie.
I'm going to go over what the Pope actually said in a series of Cliff Notes posts. I've done one already. But I'm not going to spend a lot of time on this economic issue for the simple reason that it's not that important to the overall message of Evangelii Gaudium. You can either take it from me, or read the document for yourself. These attacks on the Holy Father are absolute garbage.
From some of the comments I've seen, I would guess that a number of Public Catholic readers are drinking this Pope-hating Kool Aid. This is the small first test in what is coming people. If you allow these crude and vulgar attacks to shear you away from your Church, then you are the lowest of the low hanging fruit on the apostasy tree.
As for me, I am a Catholic woman. This is a Catholic blog. If you're looking for me, you'll find me standing with the Pope.


---


The first weeks of Advent focus more on the Lord's second coming in glory more than his first coming at Bethlehem. The Gospel is clear enough to state that we must be prepared, for, at an hour we do not expect, The Son of Man will come! "Ready!" is the key word. But how should we be ready?
The Second reading of today's Mass (
Romans 13:11-14
) gives us a basic recipe for readiness. We can distinguish five fundamental ingredients in Paul's recipe.
1. WAKE UP – The text says: You know the time; it is the hour now for you to awake from sleep. For our salvation is nearer now than when we first believed; the night is advanced, the day is at hand. Let us then throw off the works of darkness and put on the armor of light; let us conduct ourselves properly as in the day – St. Paul of course has more than physical sleep in mind here. But consider for a moment some of the aspects of physical sleep. When we sleep we are unaware of what is taking place around us or even of what we are doing. Perhaps a family member will say, "When you sleep you talk and snore!" "Really?" we may wonder. "I was unaware I was doing that." At other times we may doze off in front of the TV and miss the game-winning touchdown or the critical scene that helped the movie make sense. Further, when we are asleep our minds are dreamy and confused. Some of the craziest things happen in our dreams because our more rational part of the brain is asleep and any absurd thought may manifest itself and seem perfectly understandable. But when we finally do awake, we say. "What was THAT all about?!
Now this text which tells us to "wake up" refers to all of this in a moral and mindful sense. What St. Paul is really saying here is that we need to wake up, and become more aware of what is happening in our life.
We cannot sleep through life like someone dozing on a couch. We need to live lives that are alert and aware of what is happening. We need to be morally awake and responsible for our actions. We cannot and must not engage in dreamy thinking that is not rooted in reality and is fundamentally absurd in its premises. Dreamy thinking has to go.
We need to be alert, rooted in what is real, and what is revealed. We cannot go on calling good what God has called sinful. We need to wake up, take the "coffee" of God's Word, shake off the cobwebs of drowsiness, and start living in the light of holiness, rather than the darkness of deceit and sin.
Waking up also means taking responsibility and exercising authority over one's life. When we sleep we toss and turn and have little authority over our movements. But when we are awake we take authority over our actions and are responsible for them.
The first ingredient in the recipe for readiness is to wake up! The cobwebs of groggy and sleepy behavior have to yield to the alertness of a new mind. There are many scriptures that make a similar point
Rom 12:2 Do not be conformed to this world but be transformed by the renewal of your mind, that you may prove what is the will of God, what is good and acceptable and perfect.
1 Cor 15:34 Come to your right mind, and sin no more. For some have no knowledge of God. I say this to your shame.
Eph 4:17 Now this I affirm and testify in the Lord, that you must no longer live as the Gentiles do, in the futility of their minds; they are darkened in their understanding, alienated from the life of God because of the ignorance that is in them…22 Put off your old nature which belongs to your former manner of life and is corrupt through deceitful lusts, and be renewed in the spirit of your minds
Col 3:2 Set your minds on things that are above, not on things that are on earth
2. CLEAN UP – the text says – not in orgies and, not in promiscuity and lust… and make no provision for the desires of the flesh. – Notice the emphasis in this passage on sexuality. This is because the pagan world at the time of Paul was sexually confused and immature: Promiscuousness, fornication, homosexual activity, divorce, abortion, and infanticide were all rampant. Sound familiar? We have slipped right back into pagan immaturity and immorality. This text tells us it is time to clean up and grow up and take authority over our sexuality by God's grace. It's time to act more like adults than irresponsible teenagers.
The text, in saying we should make no provision for the desires of the flesh, is indicating we should avoid the near occasions of sin. We should not easily find ourselves in compromising and tempting situations. To make "provision" literally means to "see ahead" or to "look toward" something in such a way as to facilitate it. The text says to resolve ahead of time not to provide occasion for the flesh.
Many people make light of sexual sin today and say it's no big deal and "everyone is doing it." But God says otherwise and speaks very strongly against it in his Word. He does not do this because he is a prude, or wants to limit our fun. Rather, God wants to save us a lot of suffering and also protect the innocent.
What does promiscuity get us? Sexually transmitted diseases, AIDS, abortion, teenage pregnancies, children born outside of the ideal nuclear and properly formed family, divorce, bitterness, jealousy, broken hearts, and used, discarded human beings. God is not out to limit our fun, He is trying to protect us. He is also trying to protect marriage and children. With all this promiscuity, it is children who suffer most. Many of them are simply killed by abortion. Those who survive are often raised in less than ideal settings without both parents in a stable union of marriage. Many are born to teenage mothers not ready to raise them.
God says to all of us that, in order to be ready we have to clean up. We have to take authority over our sexuality by his grace. Promiscuity, orgies, pornography, illicit sexual union, and lust have to go. Those who make light of sexual sin have been deceived. It is a very serious matter and God makes this clear in his word:
Ephesians 5:3-7 As for lewd conduct or promiscuousness or lust of any sort, let them not even be mentioned among you; your holiness forbids this. Nor should there be any obscene, silly or suggestive talk; all that is out of place. Instead, give thanks. Make no mistake about this: no fornicator, no unclean or lustful person – in effect an idolater – has any inheritance in the kingdom of God. Let no one deceive you with worthless arguments. These are sins that bring God's wrath down upon the disobedient; therefore, have nothing to do with them.
1 Cor. 6:9-11 Can you not realize that the unholy will not fall heir to the Kingdom of God? Do not deceive yourselves: no fornicators, idolaters, or adulterers, no sodomites, thieves, misers, or drunkards, no slanderers or robbers will inherit the kingdom of God…Flee fornication… You must know that your body is a temple of the Holy Spirit, who is within – the Spirit you have received from God. You are not your own. You have been purchased at a price. So glorify God in your body.
3. SOBER UP – the text says, Not in drunkenness– Physically, to be drunk means to have our mind confused due to the influence of alcohol or drugs. Conversely, to have a sober mind is to have a clear mind that is capable of making sound judgments.
So much of our battle to be ready to meet God comes down to our mind. Stinkin' Thinkin' is a real problem today. There are many fuzzy-headed, lame-brained, crazy and just plain wrongful notions today that amount to a lack of sobriety. They emerge from the haze of un-sober thinking and from a world that increasingly and in a moral sense resembles the Star Wars barroom scene.
Don't believe everything you think. Much of what we think has come from a drunken and confused world. Square everything you think with God's word and the teachings of the Church.
So, the third item in the recipe for readiness is to sober up, to request and receive from God a clear and sound mind. Scripture says elsewhere about the need to cultivate a sound and sober mind:
1 Peter 1:13 Therefore gird up your minds, be sober, set your hope fully upon the grace that is coming to you at the revelation of Jesus Christ.
1 Peter 5:8 Be sober, be watchful. Your adversary the devil prowls around like a roaring lion, seeking some one to devour. Resist him, solid in your faith.
Titus 2:2 Let the older men be sober, serious and temperate.
4. LIGHTEN UP - The text says, not in rivalry and jealousy – An awful lot of our sins revolve around our touchy little egos. Paul warns elsewhere of other things that flow from this source: enmity, strife, anger, selfishness, dissension, factions, and envy (Gal 5:20).
The recipe for readiness here warns that this sort of stuff has to go. We need to be more forgiving if we expect to be forgiven. We also to more generous to the poor, less stingy, and less prone to the kind of anger that comes from being thin-skinned and lacking in humility.
The biggest sin is pride and it is enemy number one. It has to go and along with it all its minions: envy, jealously, selfishness, hatred, fear, bitterness, a hard and unforgiving heart, and being just plain mean.
The Lord wants to give us the gift to be more light-hearted and less ponderous and serious about ourselves; a heart that is loving, generous to the poor, considerate, glad at others' gifts, forgiving, truthful, patient and meek; a heart that is less ego-centric and more Theo-centric, a heart that is open to others.
5. DRESS UP – The text says, But put on the Lord Jesus Christ, – If we miss this point, everything else is just a moralism, more rules to live by. But the moral life of the New Testament is not achieved, it is received. The Moral life of the New Testament is not so much a prescription, as it is a description. It is description of what we are like when Jesus Christ really begins to live his life in us.
St. Paul says, I have been crucified with Christ; and it is no longer I who live, but Christ lives in me (Gal 2:20) Jesus says, I am the vine; you are the branches. Those who remain in me, and I in them , will produce much fruit. For apart from me you can do nothing (John 15:5). St John says, But if anyone obeys his word, God's love is truly made complete in him. This is how we know [experience] we are in him: Whoever claims to live in him must walk as Jesus did(1 John 2:5-6).
Hence the moral life is not imposed, it is imparted, it is not achieved it is received, it is not demanded it is delivered. There is surely a requirement that the moral law describes, but the requirement can only be met in a real or full sense by Jesus Christ living his life in us. If we try and accomplish it by our flesh, any minor success will last about twenty minutes (max).
Hence we must put on the Lord Jesus Christ. We must humbly give him our life and assent to his kingship and authority over us. The more we surrender the more he renders us apt and fit to the life he describes. The fact is, if we really hope to wake up, clean up, sober up, and cheer up it will have to be a work of his grace.
The Book of Revelation speaks of the garment, the long white robe that is given to each of the saints to wear (Rev 6:11). Later, Revelation 19:8 describes the long white robe (of the Bride of the Lamb) as the righteous deeds of all the saints. It is in this sense that St. Paul tells us to "put on the Lord Jesus Christ"
Hence righteousness is given to us like a precious wedding garment. In the baptismal ritual the newly baptized is clothed in white and told that their garments represent their dignity which they are to bring it unstained to the judgment seat of Christ. In the funeral rites the cloth placed over the casket recalls the baptismal garment. Yes, the final element in the recipe for readiness is to "put on the Lord Jesus Christ." Only Jesus can really can really get us ready.
---
---


Bishop Salvatore R. Matano
Most Rev. Salvatore R. Matano,
the 9th Bishop of Rochester
He's a "devout, very bright, faithful and courageous bishop" fellow bishop says
Nov. 6, 2013 -- Pope Francis has appointed as the Ninth Bishop of Rochester Most Rev. Salvatore R. Matano, who had been serving as Bishop of the Diocese of Burlington, Vt.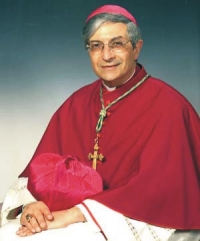 Bishop Matano's installation will be Jan. 3, 2014
Bishop Matano was born in Providence, Rhode Island on September 15th, 1946; the son of Salvatore and Mary Santaniello Matano. He attended St. Ann Elementary School and LaSalle Academy in Providence before enrolling in Our Lady of Providence Seminary College in Warwick, where he earned a Bachelor's Degree in Philosophy.
He was ordained to the priesthood on December 17th, 1971 by James Cardinal Hickey in St. Peter's Basilica in Rome. He attended the Pontifical Gregorian University in Rome, where he was awarded a Licentiate Degree in Sacred Theology in 1972, and later received a Doctorate in Canon Law in 1983 from that same university.
Bishop Matano served as Assistant Pastor at Our Lady of Grace Parish in Johnston, Rhode Island from 1972-1973. He was also a faculty member of Our Lady of Providence Seminary High School in Providence from 1972-1977. In 1977 he was named Diocesan Director of Priests' Personnel, while residing at Our Lady of Providence Seminary in Warwick.
In 1980 he also served as Assistant Chancellor for the Diocese of Providence
Between 1980 and 1983, Bishop Matano pursued graduate studies in Rome, after which he returned to the Diocese of Providence where he served as Vicar for Administration and Co-Chancellor until 1991. During this time he resided at St. Augustine Parish in Providence.
After a year's service at the Apostolic Nunciature in Washington, D.C. where he served as Secretary to the Apostolic Nuncio (1991-1992), Bishop Matano returned to the Roman Catholic Diocese of Providence. He was named Vicar General and Moderator of the Curia and served at that post until 1997, when he was appointed pastor of St. Sebastian Parish in Providence until 2000.
The Bishop also enjoyed five years as a Special Lecturer in the Undergraduate and Graduate Departments of Theology at Providence College of the Dominican Fathers, between 1995 and 2000.
In January of 2000, Bishop Matano returned to the Apostolic Nunciature in Washington, D.C. where he served as Secretary to the Apostolic Nuncio until his Ordination as Coadjutor Bishop of Burlington on April 19th, 2005.
Bishop Matano was named Prelate of Honor by His Holiness, Pope John Paul II in 1985; and received recognition from the Holy Father again in 1993 when he was named Prothonotary Apostolic.
Cardinal Timothy Dolan of the Archdiocese of New York said, "I am grateful to our Holy Father, Pope Francis, for the appointment of Bishop Salvatore R. Matano to be new Bishop of the Diocese of Rochester. Bishop Matano has been an excellent Bishop of Burlington, and I know that he will be warmly welcomed as he undertakes his new pastoral duties in Rochester. He succeeds my good friend, Bishop Matthew Clark, who served the people of Rochester so well and so faithfully during his time as their bishop. I look forward to working with Bishop Matano in caring for God's people in New York."
Added Bishop Richard Malone of the Diocese of Buffalo: "I have known Bishop Matano since his ordination and installation in Burlington, and have gotten to know him as a devout, very bright, faithful and courageous bishop. He has a crisp sense of humor. I look forward to welcoming him to Western New York in our neighboring Diocese of Rochester."
List of the bishops of the Diocese of Rochester:
Bishop Bernard J. McQuaid: 1868 - 1909 (death)

Bishop Thomas Francis Hickey: 1909 - 1928

Bishop John Francis O'Hern: 1928 - 1933 (death)

Archbishop (later Cardinal) Edward Mooney: 1933 -1937 (transfer to Archdiocese of Detroit)

Bishop James E. Kearney: 1937 - 1966

Bishop (later Archbishop) Fulton J. Sheen: 1966 - 1969 (retired)

Bishop Joseph Lloyd Hogan: 1969 -1978

Bishop Matthew Harvey Clark: June 1979 - September 2012. Bishop Clark resides in the Diocese and has the title Bishop Emeritus

Bishop Salvatore R. Matano, installation Mass Jan. 3, 2014
---
Archdiocese of Washington
Connecting the dots between Catholic faith and culture
1

- What Ever Became of Advent Fasting And Penance?

2

- Jesus and Christian Faith in the Public Square? Yes! And Proclaimed by a Military Band!

3

- Literally Messing with their Brain. What Recent Scientific Studies Can Teach Us About Ourselves and Raising our Children

4

- What is Sacred Music? Historically it's a bit more complex than you may think.

5

- A Prophet Who Prepares. A Homily for the Second Sunday of Advent

6

- No One Goes Away From Jesus Unchanged – As Seen In A Beautiful Christmas Commercial

7

- A Brief Explanation of the Nuptial Meaning of the Body.

8

- Toward a proper and richer understanding of the word "Relevant."

9

- Answering those who say there is only one Mediator

10

- Four Factors That Fuel the Crisis in Marriage and Family

11

- Where Will You Be When the First Trumpet Sounds? A Good Question Asked in An Advent Hymn

12

- A Recipe for Readiness – A Sermon for the First Sunday of Advent

I was explaining to a new Catholic recently that the color purple (violet) used in advent is akin to its use in Lent, in that both are considered penitential seasons. Hence we are to give special attention to our sins and our need for salvation. Traditionally Advent was a time we would, like Lent take [...]
Maybe I'm just not listening to the news enough, but I haven't heard a lot about the Christmas wars this year. These are the annual wars wherein a Christian seeks to put up some display of Christmas, be it a creche or Christmas tree, and soon various atheists or civil liberties groups lodge protests or [...]
In modern times there has been a tendency to downplay the differences between men and women, preferring to see whatever differences have historically existed as simply social constructs. This thinking was insisted upon by many as a kind of political correctness that must be held otherwise punishment and excoriation was sure to follow. Nevertheless, most [...]
Recently  there was a discussion on my Facebook page about Church music. My parish, Holy Comforter-St. Cyprian, here in Washington DC, was featured on EWTN's nightly news (video is below), and discussion centered on that report. Among the many forms of music we use here the parish, gospel music is predominant at our 11:00 AM [...]
The Second Sunday of Advent usually features the Ministry of St. John the Baptist. He was the Prophet who fulfilled the Office of Elijah of whom it was said: See, I will send the prophet Elijah to you before that great and dreadful day of the Lord comes. He will turn the hearts of the fathers [...]
The video below is a Coca Cola commercial from about five years ago that takes up the Christmas theme of the star of Christmas. Let us review the impact that Star of Christmas had on the wise men, the Magi. The star moved them to seek meaning outside themselves. It made them look out and [...]
Some of you know that I write the Question and Answer Column for Our Sunday Visitor Newsweekly. I like doing that as it imposes a kind of disciplined writing on me, where I must answer questions very briefly, in about 400 words or less. A question recently came in about a topic that I have [...]
One of the recurring words of modern times is the word "relevance" and it's related form "relevant." There is great insistence today that whatever is said, taught, or presented should be relevant. Often what this means is that it should be applicable, reasonable, understandable, easily grasped etc. But there is also a more problematic temporal [...]
I recently had an interaction with a commenter on this blog who brought up the common Protestant objection that, since there is one (sole) mediator between God and Man, Jesus, asking the saints to pray for us is useless, wrong and maybe even sinful. Yes it is quite a common objection, more so today that [...]
Many of you are aware that there is an Extraordinary Synod planned in Rome on the family.   There is surely no hiding the fact that the family is in real crisis, at least in the modern Western World, if not throughout many other parts as well. We do well to ponder the reasons and [...]
Part of the Genius of the African American Spirituals is their ability to treat of serious themes, such as the final judgment, in a creatively compelling manner that steered a middle course between unproductive fear and prideful presumption. Some of them are even playful saying things like, I would not be a sinner, I'll tell [...]
The first weeks of Advent focus more on the Lord's second coming in glory more than his first coming at Bethlehem. The Gospel is clear enough to state that we must be prepared, for, at an hour we do not expect, The Son of Man will come! "Ready!" is the key word. But how should [...]
---
Top of Page